Accessible India Challenge
About the Challenge
India is home to not only half a billion internet subscribers, but also to a billion plus population of which approximately 2% is disabled. As India continues to adopt digital for greater reach, almost all facets of the economy are realizing the benefits from leveraging technology for enhanced efficiency, convenience and effectiveness. The sudden outbreak of COVID-19 has given Digital an important role to impact the daily life of each person in the entire nation.
While the Government of India is taking all necessary steps to ensure that we are prepared well to face the challenge and threat posed by the pandemic of Corona Virus, the outbreak has led to unprecedented hardships for the masses, and magnified the challenges manifold for the disabled. In such a scenario, it becomes important for all digital solutions to be geared to solving the problems of the masses by being accessible for all citizens. To ensure accessibility of digital solutions, an effective accessibility assessment solution that is cloud-based, & hence itself easily available is the need of the hour.
Department of Empowerment of Persons with Disabilities (DEPwD) has launched the Accessible India Campaign (Sugamya Bharat Abhiyan) as a nation-wide Campaign to achieve universal accessibility for Persons with Disabilities (PwDs). Access to information creates opportunities for everyone in society. Access to information refers to all information. People use information in many forms to make decisions about their daily lives. This can range from actions such as being able to read price tags, to physically enter a hall, to participate in an event, to read a pamphlet with healthcare or any relevant information, to understand a train timetable, or to view webpages. The Accessible India Campaign envisages an era where no longer should societal barriers of infrastructure, and inaccessible formats stand in the way of obtaining and utilizing information in daily life. 
The National Policy on Software Products-2019 has a vision to drive the rise of India as a Software Product Nation, so as to make India a global player in development, production and supply of innovative and efficient Software Products, thus facilitating growth across the entire spectrum of ICT sector. The present proposal would be one of the key products/solutions, having tremendous capability for scalability, market and domestic value addition.
In the light of these developments, the Ministry of Electronics & Information Technology announces an Innovation Challenge for Development of a Cloud Based Web & Mobile Accessibility Compliance Checking Solution under Digital India Initiative. The application must have features but not limited to the few indicated in following section.
SCOPE OF WORK
The scope of work includes development of a cloud-based accessibility testing solution that will be offered as a service to government entities. Solution must also include the front-end user interface that is accessible through a web/mobile app apart from web & mobile accessibility compliance checking. The solution will have the following features:
General
Browser Extension: The solution should also have a module for browser extension for popular browsers (Chrome, Firefox, Edge, Safari) that can be installed on browsers and helps users to perform accessibility audit of the websites with requisite authentication
Browser and/or app-based interface
Testing
Ability to test for compliance with any specific level of WGAG 2.0 (level A, AA or AAA) (https://www.w3.org/TR/WCAG20)
Test complete website (by providing the top-level URL) or particular page (URL)
Test quality issues like spell check and broken links
Test PDF accessibility
Reporting Features
Report Non-Compliances (NCs) as Errors and Warnings (with screenshots if required) along with recommendations to fix the NCs
On page visualizations of accessibility features like headings, landmarks, alt attributes, links and form controls
Facility to securely store iterative versions of assessment reports
Administrator can turn on/off specific checkpoint to test on a single page or on full website and mark any checkpoint(s) as high priority
SMS/e-mail alerts if NCs not rectified in a particular time
Administrator can schedule testing at predefined frequency or date and automatically send report in Email in Excel/PDF format
Tester can mark a NC as resolved for a particular report
Feature to report about the inventory of media (images, audios, videos) and documents (pdf, etc.) on the website
User Management
Two User roles for each website registered on the application – Administrator and tester

Administrator to have access to dashboard and ability to customize compliance features like level to be tested (WCAG 2.0 level A, AA or AAA), scheduling of tests etc.
Tester can view reports and set the rectification status for each report

A Super admin role to have access to a dashboard for all the websites/ applications/ apps registered on the solution along with drill down to each of the websites/ applications/ apps
Dashboards
Overview dashboard for a particular website available to site administrators for displaying the accessibility score, current count of errors and warnings, historical review etc
Public Dashboard displaying usage statistics of the solution
Microservice based architecture
Deployment script to be made available for automatic deployment
Developed on open-source frameworks and technologies that are scalable, reliable and free from any third-party license
Use of Machine Learning, Artificial Intelligence to simulate manual testing of websites
Provision to expose APIs for integration with other systems
Security audit by Cert IN empanelled agency (https://www.cert-in.org.in/PDF/Empanel_org_2020.pdf)
Solution to use encrypted network communication
No external hardware dependency to run tests
Solution frontend to be accessible on any device
Ability to add more standards in the future
STAGES
The Innovation Challenge is open for participation in teams having experts from all domains of a software development life cycle. It would be in three (3) stages:
Program Launch and Registration
The Program commences on 1st March 2021. The Teams can register until 10th March 2021. To encourage participation from across academia and industry, participating teams are not mandatorily required to be a registered Indian Start-up/Company to apply for the challenge. However, the 10 teams shortlisted at Ideation Stage will be required to register themselves as Indian Start-up/Company and submit the proof of having applied at the submission stage of Prototype. It is expected that by the time of selection at the Final stage, the necessary registration process will be completed to facilitate signing of the contract for deployment of the solution for use by the Government.
Ideation Stage
The intent of this stage is to invite bright minds to collaborate and participate to propose innovative and cutting-edge ideas for their solution. The ideas will be evaluated and top Ten (10) teams will be selected by a Selection Committee comprising experts from academia, industry and government. Each selected team will receive a funding of INR 2.5 Lakh to build their prototype.
Prototype Stage
This is the critical phase of the Innovation Challenge to build upon the idea and develop the prototype of the solution. The teams would present their prototypes to a distinguished Jury to select top three (3) entries. Each of the selected teams will receive INR 10 Lakh to build their solution following the design principles and best practices. If needed, there will be mentors assigned to the top 3 to help develop the best solution as per the need of the Government. Queries, if any from the top 3 entries would be answered by their respective mentors but would be available to all, for fairness.
Solution Building
Three (3) winning teams of Stage-2 will get a chance of a lifetime to deploy a fully functioning product based on their working prototype at the NIC's National Cloud. The prototypes will be presented and demonstrated to the Grand Jury. The solutions would be evaluated based on parameters that will include Innovation, Replicability, Scalability, Usability, Ease of deployment/ roll-out, Potential risks involved in implementation of the solution.
The winning team with the best-judged solution will be awarded a contract to deploy their solution for use by Government of India, State Government entities for a period of 5 years and will also be given Rs INR 50 Lakhs in the first year and an additional 10 lakhs per year for next four years after the first year towards operations, maintenance and enhancement of the solution for the Government. The deployment of the final solution will also be at the NIC's National Cloud. Post the completion of O&M phase, the renewal shall be done at a rate agreeable to both the Winning team and NIC, MeitY.
All teams including the winning team shall be free to market the product to any entity outside Union/State/UT Government Entities of India by hosting it in an environment other than that for the Government.
PARTICIPATION PROCESS FLOW
Step-A: Team leader will have to individually Sign-Up (https://auth.mygov.in) and apply for the challenge on Innovate India Platform of MyGov by clicking the link –https://innovateindia.mygov.in/AccessibleIndiaChallenge

Note: If you are already registered on MyGov, you will be able to apply using the same account

Step-B: After the initial Sign-Up, the Team Leader has to add all Team Members and Company details, if any.
Step-C: Team Leader will have to fill the submission form, which may include the upload of Documents, Videos, etc.
Team Leaders and team members of the Top 10 shortlisted teams will receive an email confirming their selection to the Prototype Stage and a link to submit requisite details.
Team Leaders will have to create an account on Open Forge and upload Documents & Source Code on Open Forge.
Team Leader is now supposed to submit the link for their Open Forge documents on the Prototype Stage Form (as detailed at Point a. of 1.4.2 above).
Team Leaders and team members of the Top 3 shortlisted teams from the Prototype Stage will receive an email confirming their selection to the Final Stage and a link to submit requisite details (viz. Presentation Copy, Demo URL, Video, etc. and Company Registration Details) along with the date of presentation to the Grand Jury.
The teams shall develop the complete application, security audited by Cert-IN empanelled agency (https://www.cert-in.org.in/PDF/Empanel_org_2020.pdf) and deploy on NIC's Cloud Environment for final evaluation.
AWARDS & OUTCOME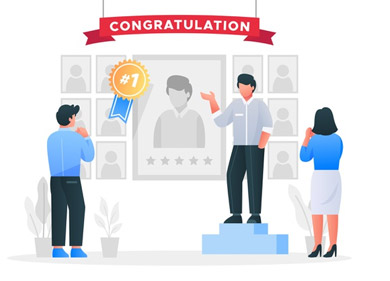 The primary aim of the innovation challenge is to promote and encourage the start-ups and give them a platform to innovate and deploy the solution for usage across government entities. The participants also get a chance to win lucrative prize money at various stages of the program (as given in section 1.3) and also an award amounting to INR 50 Lakhs for the winner, in addition to INR 10 lakhs per year from 2nd year onwards towards maintenance, operations, & enhancements.
INTELLECTUAL PROPERTY RIGHTS
The Intellectual Property Rights (IPR) will belong to the winner (Institute/Organization) and shall have special terms of usage in public interest for the Government of India perpetually, as per the terms and conditions mentioned in this document. It is the responsibility of the winners to protect the new Intellectual Property Rights with their own expenditure through available institutional mechanisms.
EVALUATION PARAMETERS
The ideas/prototype/final product/solution will be judged on the following parameters:
| Parameter | Description |
| --- | --- |
| Approach Towards Problem Solving | Product / Solution Idea, Degree of Innovation, Simplicity of Final Solution, Uniqueness & scalability of Idea, Novelty of Approach |
| Business Use Case | Business Case, USP and Vision |
| Solution Technical Feasibility | Product / Solution features, Scalability, Interoperability, enhancement & expansion, Underlying technology components & stack and futuristic orientation |
| Product Roadmap | Potential Cost to Build Product/Solution, Go to Market Strategy, Time to Market |
| Team Ability & Culture | Team Leader's Effectiveness (i.e., Ability to guide, Ability to present idea), Ability to Market Product/Solution, Growth Potential of Organization |
| Addressable Market | Natural Sales Appeal, Affordability, ROI, Sales Distribution Channel |
| Compliance to international standards | Approach and plans for compliance with international standards and sustenance |
EVALUATION PROCESS
Assess compliance with Eligibility Criteria of participating Teams
Assess quality and completeness of the responses provided in the respective nomination forms
Conduct Detailed Assessment of submitted ideas for shortlisting 10 teams for Prototype building stage
Contact SPOC for seeking additional information/artefacts from the shortlisted nominations
Conduct presentation and review prototypes submitted by all the 10 teams. Score Submitted Ideas out of 100 on each Evaluation Parameter, for identifying top 3 teams by the Jury
Conduct presentation and demonstration for 3 teams to review the solution built by them
TIMELINES
Activities
Date

Launch of Innovation Challenge

1-Mar-2021
(Monday)

Last Date for Registration

15-Mar-2021
(Monday)

Last Date for Submission of Ideas

15-Mar-2021
(Monday)

Declaration of 10 Teams Shortlisted for Building Prototype

26-Mar-2021
(Friday)

Last Date for Prototype Submission

12-Apr-2021
(Monday)

Presentation by Top 10 Teams

19-Apr-2021
(Monday)

Declaration of results of Prototype Stage

19-Apr-2021
(Monday)

Submission of Final Solution

19-May-2021
(Wednesday)

Presentation of Top 3 Teams

25-May-2021
(Tuesday)

Declaration of Results

25-May-2021
(Tuesday)

Contract Signing

31-May-2021
(Monday)
ELIGIBILITY CRITERIA
Participating teams must be an Indian company registered under Companies Act or comply with the definition of Start-up as per the latest notification of DIPP (Available at http://startupindia.gov.in). [Indian company: 51% or more shareholding is with Indian citizen or person of Indian origin]
If Participating Team is not yet registered, they are still allowed to participate, but are required to get registered if they get selected for the final submission.
DELIVERABLES
The solution/Product so developed would be deployed by the winner in NIC's National Cloud Environment for use by the Union/State/UT government entities
The winning entity would support the solution for Five (5) years from the go live period and would be supported with a fixed amount for sustenance and management of the product as mentioned in 1.3 (c). Support after 5 years to be on mutually decided terms
Winning team would submit the complete technical documentation, user manual, etc. of the solution prepared in line with the IEEE standards to NIC
Going forward any new enhancements, features, innovations in the solution/product during the O&M phase would parallelly be released in the NIC Cloud Environment
RULES & GUIDELINES
All participants and team have to be eligible (See Eligibility Criteria) to participate
If individuals are associated with any company, they have to apprise their employer(s) about their participation, & the registration of the new entity. Furthermore, they will have to provide an NOC from their company stating that the respective company will have no right on the Prize Money and/or IPR
During the Innovation Challenge, the Team Leader shall be considered as the Single Point of Contact (SPOC) for all engagements & communication by the Organizing Team. Furthermore, the Team Leader cannot be changed during the course of the Innovation Challenge
The Team Leader and Participants will be required to use their Email ID and Mobile number for the purpose of Team Registration and Account Creation on MyGov for participating in the Innovation Challenge. If you are already registered, you will be able to apply using the same account
For any update regarding the Innovation Challenge, Participants will have to refer to Innovate India Platform of MyGov
All communication between the Innovation Challenge Organizing Team and Team Leader shall happen via the registered Email ID only. This will be the only form of communication and any other forms of communication will not be entertained
The teams shall not display any existing solution or collaborate with companies that have existing solutions. Such entries, if identified shall be liable for disqualification
Any outcome of this initiative shall only be consumed by the participating team for the purpose of the Innovation Challenge for Development of Web Accessibility Compliance Checking Solution
Teams shall maintain detailed documentation of their Idea, Prototype and Solution at all stages of the Innovation Challenge for reference and record purpose. The Innovation Challenge Organizing Team reserves the right to review these documents any time during the program
Any changes in Approach to the shortlisted Ideas during Prototype & Solution Building stages of the Innovation Challenge will need to be formally communicated to & will undergo deliberation by the Innovation Challenge Organizing Team
Teams are allowed removal/voluntary withdrawal of team members, only once, during the program before prototype stage. Any such step will have to be disclosed to the Innovation Challenge Organising Team for approval. No other form of team modification will be entertained
The funding under Innovation Challenge shall be consumed for development of the solution only. The Teams will be required to provide Fund Utilization Certificate before the Next Stage on the date decided & communicated by the Innovation Challenge Organizing Team
Winner(s) will retain the rights of the solution/product developed as part of the Innovation Challenge. The winner(s) will however have to conform to the terms and conditions defined for the Innovation Challenge during the competition and post winning the award
The solution should not violate/breach/copy any idea/concept/ product already copyrighted, patented or existing in this segment of the market
Anyone found to be non-compliant, may get their participation cancelled. Innovation Challenge Jury will take the final call in case of any unforeseen situation
For any dispute redressal, Secretary, MeitY's decision will be final on the matter
NIC, MeitY, GoI will have no financial liability other than the prize money as indicated in 1.3 (c) towards any license for the solution and will hold the perpetual license of the solution for production and DR
However, the winning entity and two runner ups would be free to market the solution to any entity outside Union/State/UT Government Organizations of India
In case of merger/takeover of the company the terms of use by NIC, MeitY, GoI would remain valid
In case the start-up closes down the complete source code and knowledge transfer will be provided to NIC