Workshop for Web Information Manager and NIC Nodal Officers of the Ministries/Departments

A Strategic Workshop on GIGW Compliance was conducted for Web Information Manager and NIC nodal officers of the Ministries/Departments on Thursday, 5th September, 2013. This workshop was well attended by 64 participants. A team of senior experts from STQC also attended to ensure website stakeholders could gain clarity on the STQC certification process that is needed to verify GIGW compliance.

DG, NIC Shri A Mohan, while welcoming the audience in his inaugural address, urged each participant in the audience to share their self-assessment of how compliant were their respective websites with regard to GIGW. Taking cognizance of majority of inputs, he invited opinion on the topic of making it mandatory for all Government websites to be GIGW compliant at the time of hosting.

Mrs. Neeta Verma, DDG – Data Center & Web Services Group, agreed that while such a move may help the cause of GIGW compliance, however, its timing needs to be correct in the interest of facilitating smoother adoption. She recommended a few more workshops at strategic level with senior stakeholders in the Government departments should help to increase awareness and ensure stakeholder buy-in on the importance of investing energy to make websites compliant with GIGW.
Mrs. Neeta shared that adopting a Content Management System (CMS) may help reduce the website maintenance effort to 30%, and deliver other compliance benefits by virtue of these compliances being in-built in CMS features & workflows by design.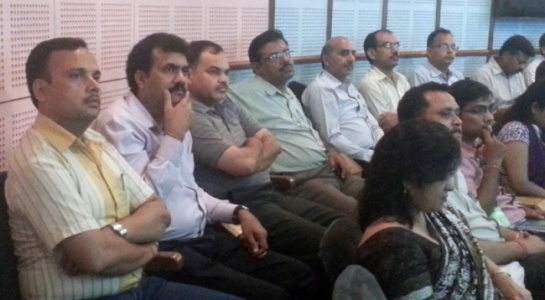 Shri U.K. Nandwani, Sr. Director, STQC, shared an overview of STQC's Website Quality Certification scheme along with subsidized costs charged, and detailed steps involved in applying for STQC certification.
Participants engaged with enthusiasm and suggested key items listed below to help expedite and ensure compliance with GIGW guidelines:
Appointment of JS (Admin) as Web Information Manager, or JS (IT) if former unavailable in a government department
NIC expertise sought for pre-assessments before departments apply for STQC certification
GIGW compliance should be made mandatory to host any government website